It's 11:30 at night and your child or significant other can't start their car in a dark parking lot after spending time with friends. They get out, walk to the trunk and grab the jump-pack that has been in there for over a year. After popping the hood and trying to remember which color is positive and which is negative, they place the jump-pack on the battery, return to the car, turn the key, only to find out the jump-pack is dead and now there is no way to start the car!

Someone left the dome light on overnight in one of your delivery vans and now can't get out of the garage to deliver the packages that you make money on.

Your patrol car has been at the scene for hours with its lights on & laptop booted up. The call comes in, and you need to go... except your battery is dead from all the accessories that it's been powering, and now you can't serve and protect.

The VOXX Power System, an emergency on-demand jump starter that gives you peace of mind all the time. The VPS for short, works on automotive (gas and light diesel), marine, motorcycle, and power-sport applications giving you the power you need, when you need it most.
The VPS is installed in any of the flexible mounting locations and wired directly to the vehicle's main battery. As the vehicle is driven, the VPS pulls a trickle charge to fill its Lithium Iron Phosphate battery, ensuring it is always fully charged. Once full, the intelligent patent-pending circuitry stops charging from the vehicle's battery. When the driver needs to jump the vehicle they open the VPS app hit "Jump" and they are on their way, safe, sound, and on time, all without leaving the comfort and safety of the vehicle.
Never worrying about a dead battery means no more relying on roadside assistance for your vehicle - this can take hours. A sea-tow from your favorite cove because you pumped the music all day and forgot to start the boat — again hours, and expensive.
VOXX Power System delivers a unique solution, taking all the concerns and guess work out of what to do in a situation when a vehicle battery fails — keeping loved ones, teen drivers, fleet, and emergency vehicles on the road and on the way.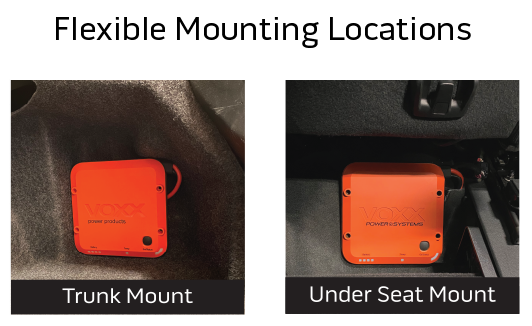 Model Number : POWV3.5
| | | |
| --- | --- | --- |
| Size | : | 8" L x 8" W x 1" H |
| Weight (pounds) | : | 3 pounds |
| Nominal Voltage | : | 12 to 14V |
| Peak Current | : | 850 Amps |
| Cranking Current | : | 525 Amps |
| Battery Capacity | : | 3500 mAh |
| Jumps Per Charge | : | >20 (typically) |
| Maximum Recommended Engine Size (gasoline) | : | 8 Liter |
| Maximum Recommended Engine Size (Diesel) | : | 6 Liter |
| Environmental | : | IP67 (waterproof) |
| Storage Temperature | : | -22F to 121F |
| Operating Temperature — Jump Starting | : | 0F to 113F |
| Operating Temperature — Non-Jump Starting | : | -22F to 121F |
| Charging Current — While Engine is Running | : | 2A |
| Charge Retention | : | >6 Months |
| Wireless Connectivity | : | Bluetooth® Low Energy (BLE) |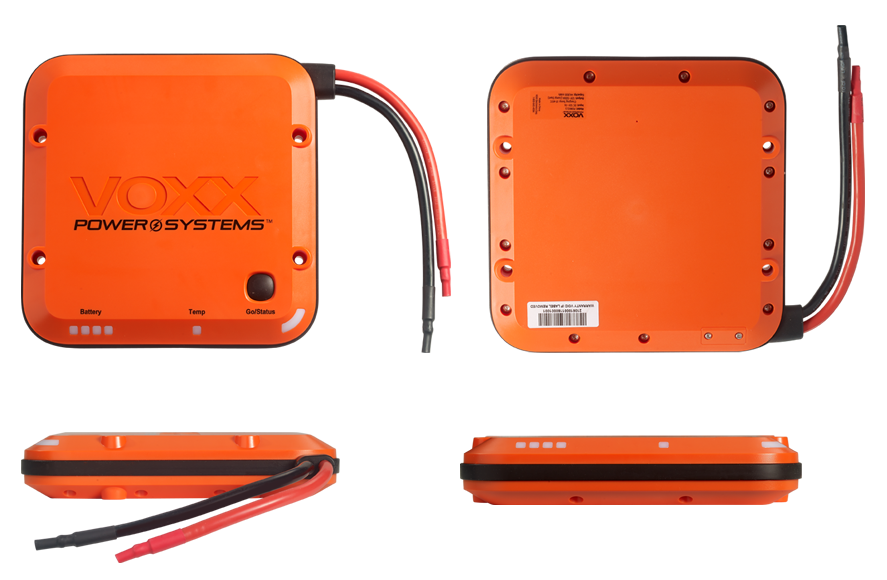 *CAUTION — High voltage • Consult Installation Manual for step-by-step instructions • Professional installation recommended.