Universal Vehicle Mount System for Tablets with Bluetooth Headphones
Model: IPDUNVBT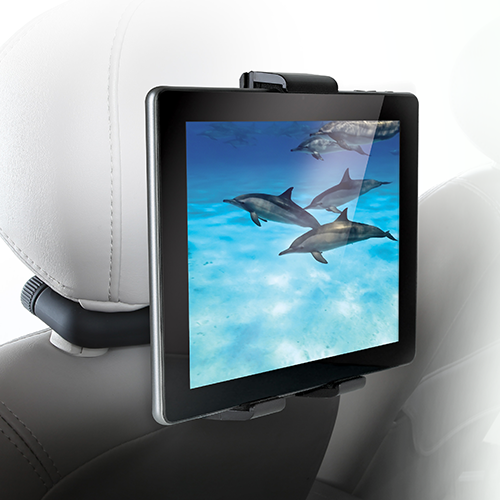 KEY FEATURES
Low profile universal seat back docking station

Easily docks and undocks to the seat back dock via our patented Quick ConnectĄ

Adjustable viewing angles up and down

(2) built-in USB ports for charging the tablet

Universal seat back dock, steel reinforced construction for stability

Adjustable tablet dock, allows any tablet to be mounted securely

2 USB charging ports, for charging the tablet in the vehicle

Built-in FM transmitter, for playing back audio through the vehicles sound system

Rechargeable Bluetooth headphone for private listening of audio content

Universal Tablet Dock

Universal Seat Back Dock

12 Volt Power Cable

3.5mm to 3.5mm audio cable

Rechargeable Bluetooth headphone
PRODUCT OVERVIEW
Audiovox new Universal mount system offers you docking and charging capabilities for your tablets. The Universal tablet holder has an adjustable clamp mechanism that safely and securely locks your tablet into position. The tablet holder then attaches to a universal low profile seat back docking station.
Features
(continued)
USB charging cable for Bluetooth headphone
CUSTOMER REVIEWS
Nice and sturdy bracket. Works great!
Great sturdy docking station.
So I actually got model IPDUNV, which is the same thing without the headphones. This unit is sturdy enough for the dirt road that I live on, not to mention all the other things it can do. Would recommend this docking station.