Two-Way LCD Command Confirming Security System with up to 2,500 feet Operating Range
Model: APS596Z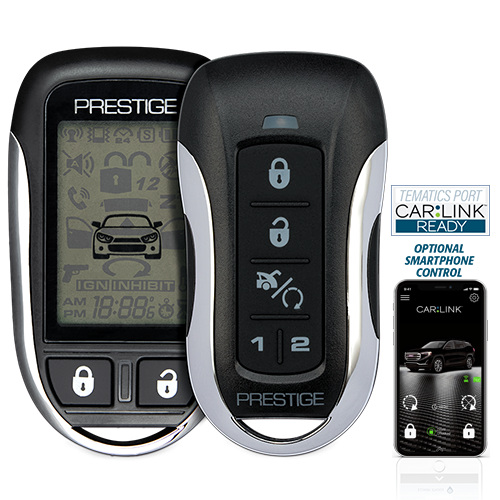 KEY FEATURES
(1) Five Button 2-Way LCD Confirming Transmitter

(1) Five Button 1-Way Transmitter

FlashLogic FLCART Compatible

Glass Mount Antenna with Built-in LED Light and Valet Switch

Programmed transmitter notification

Remote Keyless Entry

Automatic Arming

Automatic Locking

Illuminated Entry

Multiple Vehicle Control

Improved custom code override, user selectable and programmable

Multi Tone Mini Siren

Starter Interrupt

Dual Stage Shock Sensor with City Mode
If You Are Interested in this Unit, Inquire At Your Local Authorized Retailer.
PRODUCT OVERVIEW
Performance and attitude is what you can expect from the APS596Z. Prestige engineers quality reliable protect that will protect your car and keep you safe as well as stylish in its newly redesigned metal chrome casing. The advanced 2-way LCD command confirming display confirms your requested action has been triggered and completed and has an operating range of 2,500 feet.
Features
(continued)
9 NOC Outputs, 13 Control Options
4 - Auxiliary Outputs, 8 Control Options
FlashLogic Based System Programming
Telematics Port - Carlink Ready
Limited Lifetime Warranty
CUSTOMER REVIEWS
Had the APS596C
by
Evelina Dean
, on
2020-Feb-22
Best add on alarm system I've ever owned. Being hearing impaired it is nice to have an alarm that is on the key fob. It alerts me when I'm in my home and shopping. Great system and far nicer than the alarms that only sound off on the automobile only.